The Sunshine – Mengenal Stream Community Chapter Jatim
Dear Stream Community,
Dalam ulasan kali ini, kita mengulas para Streamer di Jawa Timur yang kompak sekali yang dimotori oleh "The Sunshine".
Simak ya, photo2-nya 'The Sunshine yang very Shiny..' yang gayanya itu sudah mendunia di Instagram sampai ada Streamer dari Rusia nge-LIKE dan komentar 🙂 🙂 The Sunshine from Lamongan goes International… hmmm keren kan??? 🙂 Perlu di patenkan gaya-nya Om Pupung The Sunshine ini..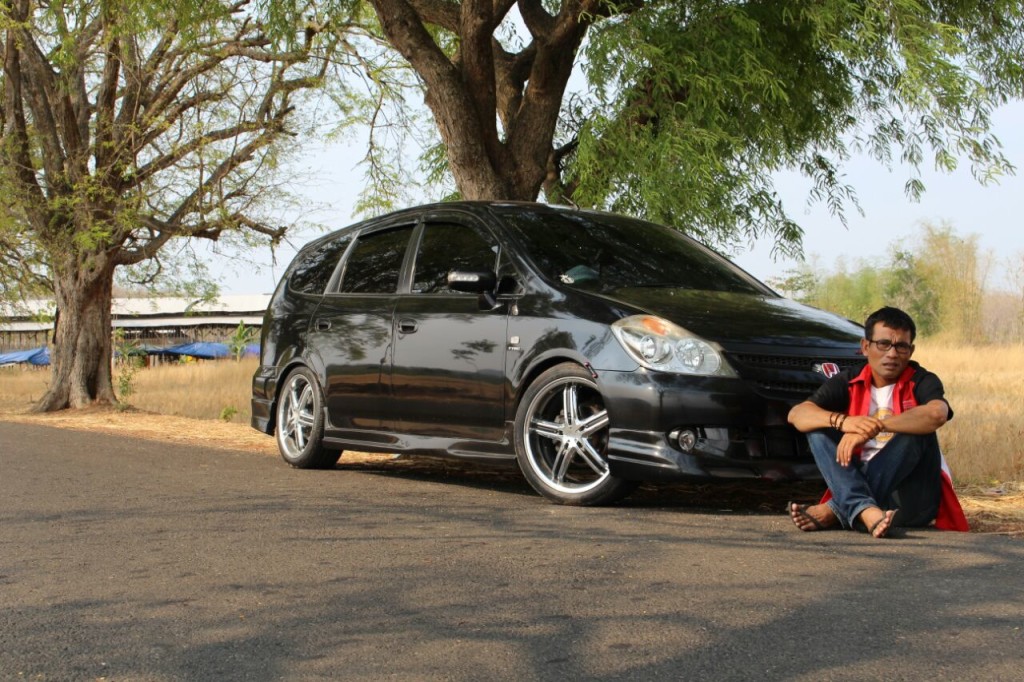 ……….. dan sekaligus ulasan di Koran Jawa Pos Radar Tuban 8 November 2014 berikut ini…….
Mengenal Stream Community Chapter Jatim yang Sering Kongkow di Tuban
Kota Tuban Dianggap Lebih Keren Ketimbang Kota Lain di Jawa Timur
Mobil Honda Stream tak lagi diproduksi. Tapi, para penggemarnya masih terus melestarikan produk itu. Akhirnya meraka bergabung dalam Stream Community sebagai komunitas pencita mobil tersebut.
Sorotan lampu mobil mulai terlihat di pintu masuk rest area Tuban, Sabtu (8/11/2014). Setelah memasuki area halaman lokasi itu, mobil mulai diatur untuk parkir. Mobil-mobil itu diparkir mulai dari utara ke selatan. Rapi sekali.
Satu persatu pintu mobil itu terbuka. Orang-orang yang didalam mobil yang modis itu keluar satu persatu. Dengan berpenampilan santai meraka memilih tempat duduk di stan-stan yang ada di rest area itu.
Mereka yang telah keluar dari mobilnya masing-masing sangat akrab sekali. Para pemilik tergabung dalam sebuah komunitas. Yakni, Stream Community (SC). Stream adalah mobil yang dikeluarkan oleh Honda pada tahun 2001 untuk generasi pertama.
Ketua SC chapter Jawa Timur, Saiful Hadi mengatakan, komunitas mobil ini sudah berdiri sejak lama. Persisnya, pada 2010. Pertama pembentukannya di Jakarta. Para pendiri komunitas ini, dia, adalah para dokter yang suka dengan mobil yang bodinya menarik ini. Tapi, saat ini komunitasnya lebih banyak para karyawan, mahasiswa maupun yang punya bisnis yang bergabung didalamnya.
Para punggawa komunitas mulai melebarkan dengan cara melalui media sosial maupun website. Nah, lambat laun akhirnya munculah SC chapter Jawa Timur dengan anggotanya dari beberapa daerah. Surabaya, Lamongan, Blitar, Sidoarjo, Jember, Madura, Malang, Kediri, Pasuruan, Bojonegoro dan Tuban.
Pupung, sapaan akrab Saiful Hadi, menuturkan, untuk menghidupkan komunitas mobil yang tergolong lawas ini perlu perjuangan. Sebab, untuk awal di Jatim dirinya hanya seorang diri. Namun, lambat laun akhirnya pada penggemar Honda Stream mulai berkumpul dan lahirlah komunitas-komunitas stream di daerah-daerah Jawa Timur.
Dia mengatakan untuk SC di Tuban sudah ada sejak 2013 lalu.
''Kalau di Tuban ada 15 anggotanya. Kalau se jawa timur lebih banyak,'' kata pria 42 tahun ini pada Jawa Pos Radar Tuban.
Meski anggota SC di Tuban tidak terlalu banyak. Tapi, Tuban menjadi tempat favorit kumpul anggotanya. Menurut pria yang tinggal di asal Lamongan ini, tempat kongkow para anggota SC chapter Jatim lebih memilih di Tuban karena lokasinya lebih enjoy.
''Banyak komunitas lainnya juga di Tuban. Jadi kita bisa sharing,'' terang pria yang rambutnya sudah mulai memutih ini.
Pupung menilai, tak hanya lokasi Tuban kongkow di Tuban yang strategis. Tapi, pemandangan Tuban cukup indah untuk dinikmati saat para anggota komunitasnya itu berkumpul.
Saking terpikatnya dengan Tuban, para anggotanya mulai merencanakan untuk menggelar bakti sosial bersama masyarakat Tuban.
''Ini masih hunting lokasi untuk baksos,'' terang bapak dua anak ini.
Pupung mengakui saat bersama anggota komunitas ini banyak yang dibicarakan. Tapi, fokusnya pembicaraannya soal mobil. Mulai dari interior mobil hingga eksterior. Termasuk cara modifikasi mobil. Nah, untuk kegiatannnya bukan hanya touring bersama melainkan juga mengadakan kegiatan sosial.
''Santunan juga pernah kita lakukan,'' ujarnya.
Dikomunitasnya, lanjut Pupung, paling asik adalah membicarakan soal aksesoris mobil sampai modifikasinya. Nah , untuk membeli aksesoris mobil stream tidak hanya di Indonesia saja. kadang, para anggota komunitasnya ada yang memesan langsung dari Jepang melalui teman-teman komunitasnya yang lain. Dikatakan Pupung, untuk memodifikasi bisa menghabiskan dana jutaan rupiah.
''Kalau harga aksesorisnya bervariasi. Ada yang Rp 2 Juta ada juga yang Rp 8 Juta,'' ujar pria yang pernah tinggal di Tuban selama setahun ini.
Dia menambahkan, komintas mobilnya ini sering melibatkan keluarga saat melakukan touring. Bahkan, tak segan-segan mengajak anak beserta istri saat ada gathering di luar daerah. (*)
Sumber: Jawa Pos Radar Tuban
Salam
@streamcommunity.
Follow us on Instagram @streamcommunity, Facebook, WhatsApp, Line, Zello and our Web Forum