Hello Streamers,
The Spoon….?? Sendok?? dikalangan para pencinta modifikasi Honda, pasti sangat kenal sekali dengan "Spoon Sport" yaitu perusahaan di Jepang yang memproduksi khusus mesin dan part2-nya untuk keperluan racing atau tuner untuk mobil Honda.
Disesi ulasan kali ini team Repot-er SC sekalian berkunjung di wilayah Tangerang, karena terlihat mondar-mandir ada Stream berkelir SPOON ngejreng yang menjadi pusat perhatian massa. Yuk kita simak ya..
Team berkenalan dengan Om Harry, sosoknya emang seram tinggi besar tapi ramah banget, beliau ini terkenal dijajaran Black Community yg disponsori oleh perusahaan rokok, Mobilnya ada 2, yaitu Mazda Bleketek dan Stream-nya, kali ini kita bahas streamnya dong, soalnya si Mazda Bleketek sudah juara kontes dimana2 dengan aliran super extreme.
Join Stream community pada tahun 2013 waktu itu stiker SC-nya dibuat bajakannya dengan ukuran segede gaban spt foto dibawah ini Kemudian kena razia ama team SC trus akhirnya gabung deh.. makasih ya Om Spoon begitulah trademark panggilan om Harry sekarang. yang ternyata sudah memantau SC sejak lama.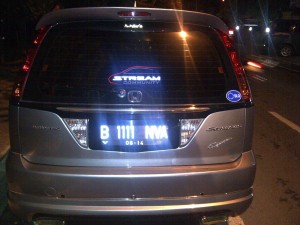 Warna aslinya Silverstone RN3 K20A1 mesin legendaris dengan 156HP transmisi Triptronic 5 speed with manual mode, Spoon-nya wara wiri di GMF bandara Soetta.
Ubahan modifikasi terutama exterior dipercayakan pada bengkel bodikit di wilayah Jakarta barat dan FJautogarage kota Tangerang. Kenyamanan dan keamaan diutamakan untuk stream-nya, jelas saja sebagai karyawan GMF safety and comfort adalah hal yang utama.
Ubahan cockpit dengan double HU dengan warna merah layaknya sebuah cockpit Boeing jadi pilihan dan headrest DVD player buat kenyamanan keluarga saat bepergian jauh maupun dekat.
Karena sering kumpul bareng SC-ers yang lain beliau ingin sesuatu yang beda, akhirnya dipilihlah untuk membungkus streamnya dengan decal/stiker motif Spoon, memang motif ini cenderung sulit untuk detailingnya tapi… dengan referensi di internet yang banyak sekali mengaplikasikan maka The show must go-on.
Done, Pasang stiker selesai dan wowww.. keren sekali stream dengan motif spoon, dan bisa dijadikan referensi buat rekan-rekan semua. Walaupun diawal pasang stikernya sering rekan2 meledekinya dengan Stream mobil deposit Box sebuah bank swasta 🙂 🙂
Foto2 dibawah ini cukup sudah menceritakan kisah "The Spoon" di website SC, dari semenjak bergabung, pasang official SC emblem, bersosialisasi dengan kawanan lumba-lumba, konvoy Gathnas Jogja, ikut berpartisipasi mengawal rekan2 dalam kontes2 otomotif local sampai menjalin kekeluargaan di keluarga SC ini. #salute buat Om Harry.
Pesannya Om Harry diakhir sesi wawancara adalah GMF yaitu "Good_drive-Meet-Friendship"… hmmmm keren kan!!!!
Salam
@Streamcommunity
#FJ_Auto_Garage #Streamcommunity
Follow us on Instagram @Streamcommunity
Owner : Om Harry "Spoon"
Spec:
– Full custom bodikit all around, front, grill, side, rear, spoiler.
– Audio double HU cockpit style
– Hood damper and illuminated door step
– Rims Sparco ceetah 19″ original
– All factory default.