Gathering SC Riau Road to Sumatera Barat (Part 2)
Dear Stream Community,
Berlanjut pada Part 2 Gathering SC Chapter Riau yang super spektakuler selama 2 hari 2 malam dari mulai sore hari Jumat tanggal 19 Sept 2014 sampai malam hari minggu tanggal 21 Sept 2014… Wowww stamina dan semangat SC Chapter Riau Gathering tour de Padang sangat luar biasa… extraordinary gathering ever!!!
Perjalanan Pekanbaru-Bukittinggi-Padang-Painan-Padang-Bukittinggi-Pekanbaru yang hampir menempuh jarak 1000km PP dijalani dengan lancar tanpa kendala, performa mesin Honda dan kenyamanan Honda Stream sudah teruji di gathering kali ini.. "The streets are calling… Once more, Stream Community will run through Sumatera". Begitulah jargon Om Dony dan Om Tri menyemangati.
Hujan dan kabut pegunungan mewarnai perjalanan rekan2 SC yang menambah suasana "Like in Europe", convoy rapi dan tertib berlalu lintas selalu jadi kebiasaan, safe drive and fun..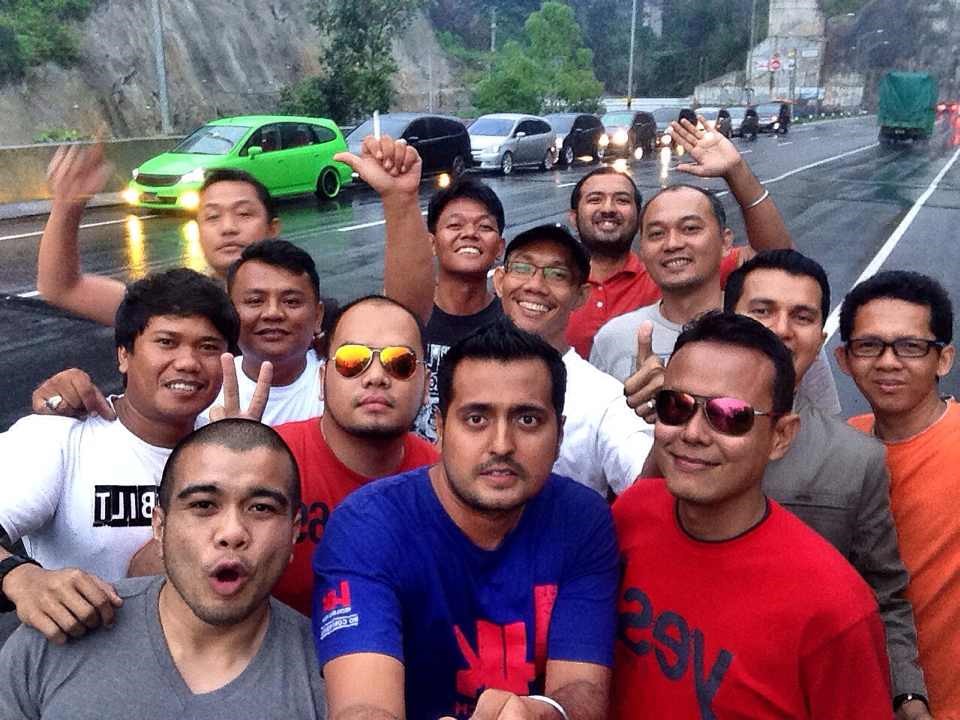 Ternyata SC chapter Riau sangat kompak banget.. the best Kompaker SC ever nih… kenapa coba?… setiap Foto rame2 pasti pake "Tongsis" tongkat narsis 🙂 🙂 🙂 So, gak ada minta tolong "Bro tolong potoin Bro!"… hehehehe.. yang ada, "Bro ayo foto bareng Bro.." Keren kan solid kompaknya. Tongsis bisa menjadi aksesoris resmi tiap gathering tuh.. 🙂
Lanjut lagi acara menuju Padang, Pantai bungus, kemudian pantai carocok, bermain tandem paralayang dengan backdrop keindahan pantai.. Amazing Indonesia!!!
Dari Padang menuju Painan ditempuh sekitar 2 jam, yang jalannya ditepi pantai dan melewati perbukitan, yang jelas amazing banget pemandangannya selama perjalanan, lalu..Naik kapal ketengah laut… dengan backview pulau Cingkuak, Mancing Mania.. dengan hasil tangkapan straight!! ckckckck kagum ternyata Rekan2 SC mahir mancing & mahir tandem paralayang..
Silaturahmi dengan Rekan SC Chapter Sumbar juga menjadi kesempatan sangat luar biasa, makan bersama, sharing masalah lumba2 juga jadi ajang pembicaraan yang sangat menarik, ada yang melihat2 kagum terhadap lumba yang lain, dan ada yang poto2 narsis tuh.. hmm kayaknya Nn Echa Ngikutin terus Om Harpit 🙂 🙂 ada apa gerangan???
Panjang kisah gathering SC Chapter Riau ini sepanjang perjalanan dan semangatnya, by the way…. Lanjut simak foto2nya yang very spectacular, foto narsis di jam Gadang dan foto di jembatan kelok 9 seperti nya menjadi favorit dalam gathering kali ini.
Rangkaian perjalanan dan diskusi gathering ini juga membahas kepengurusan SC Chapter Riau, Sertijab kepengurusan baru dari Om Dony ke Om Tri juga menjadi acara puncak dalam gathering ini, selengkapnya ada di link ini http://stream-community.org/chapter/riau/
Terimakasih SC Chapter Riau yang sudah menjadi bagian dari keluarga besar SC, "You are our Story, our Stream Community"
Sampai Jumpa di Gathering berikutnya. 🙂
Salam
@Streamcommuniry
Follow us on our Instagram @Streamcommunity
Facebook, Zello, WhatsApp, LINE & Web Forum.
__________________________ The Photos _____________________________
@streamcommunity
Bagian 1 klik disini ya.. http://stream-community.org/news/gathering-sc-riau-road-to-sumatera-barat-part1/